Ukulele Teachers
ALANNA MATYSEK
UKULELE TEACHER

Growing up surrounded by music, Alanna has been singing and playing piano since not long after she learned how to walk and talk. Graduated from Etobicoke School of the Arts as a musical theatre major, Alanna began writing music long before then, having her first completed song published on her public school's end of year CD. 8 years later she has continued to pursue her passion and in August of 2011 released an EP onto iTunes entitled "A Song for my Love", which features a track to be featured on a TV show on CTV next summer. Expanding her repertoire through high school Alanna began playing guitar and cello while expanding her vocal talents, participating in many choirs and performing across Canada, later winning gold in the National competition in Ottawa. She has had many mentors, receiving formal training in both piano and guitar from Bloor West Music studios, and then working closely with Michael Johnston from the Skydiggers. She has been teaching guitar, piano and vocals for three years, and continues to perform her music across the city.
SHELLEY O'BRIEN
UKULELE TEACHER

Shelley is a Piano and Ukulele player who has an active career as a recording artist and singer/songwriter. She spent a number of years as a piano bar entertainer on cruise liners, and in 2009 traded her ship's cabin for a Toronto apartment to focus on her own music. Since the release of her debut album, she has traveled around the world, to festivals in Paris, Venice, Helsinki, Rome and Melbourne. Extensive touring has also put her name on the marquee in cities like Barcelona, Brisbane, Rotterdam, and Reykjavik. Shelley's love of children and teaching began while she was teaching English at a Kindergarten for two years in Japan. She often used her background in music, singing songs in English to facilitate the learning process. Though she has played piano from age 5, and ukulele for only 5 years, she has a special love for this simple 4-stringed instrument, and finds it a wonderful instrument for beginners of all ages.
LARRA SKYE
UKULELE TEACHER

Growing up in Newmarket, Ontario, Larra Skye began studying classical guitar from the books in her parents' bookstore. Her formative musical years were spent playing trombone in the town concert band, singing in an award-winning children's choir, and performing her original songs at local coffee houses. In 2006, Larra's debut music album "The World Disappears" became the #1 independent jazz album for HMV Canada. Her music has since appeared on national radio and television stations including the CBC and Jazz FM 91. She has performed in Canada and the U.S, and a new album of original indie pop songs is currently being recorded with producers Marc Rogers and Karen Kosowski. Larra has trained privately with jazz educator Lisa Martinelli and as an honours classical voice student at the Royal Conservatory of Music.
MARIE PERRY
UKULELE TEACHER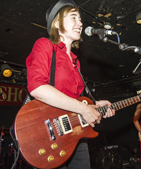 Marie Perry was born and raised in Smithers BC amidst mountains and music. She studied piano for six years but found her true calling when she picked up the electric guitar at fourteen and immediately began fronting her first band. Ten years later Marie is still fronting bands - she sings, plays guitar, and writes performing under her stage name MIP. Her most current project is her zany rock band, the Mip Power Trio. From British Columbia to Ontario Marie has performed at a variety of festivals, night clubs, bars, and cafes. The Mip Power Trio has headlined at the Smithers Midsummer Music Festival (BC) and the Lorussopalooza Festival in Magnetawan Ontario and they have performed in many venues in Toronto including the Horseshoe Tavern and the Rivoli. Marie has been teaching guitar, voice, and even a little piano, for just over 3 years now and she loves to enrich people's lives with the joy of music. Her musical style has been described as "fun, fast, and filled with high energy that is infectious" and she brings this enthusiasm to her teaching in hopes that each student can find their own musical calling.