VIOLIN TEACHERS
KERRIE LOWITT
VIOLIN TEACHER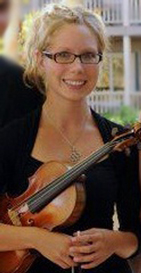 Kerrie has been teaching piano and teaching violin since 2002 and very much enjoys teaching music lessons to students of all ages and backgrounds.Whether you're interested in learning to play piano or violin for your own enjoyment or to achieve Royal Conservator of Music standards, she's happy to help you pursue your passion for music. Kerrie Lowitt has been studying the piano and violin from the age of 6. She is currently a student at Osgoode Hall Law School and has a Master's from the University of Edinburgh. Kerrie has played the violin extensively in the both the UK and Canada, having studied classically under the tuition of Sonia Klimasko and baroque violin at the University of York, England. Kerrie has toured throughout much of the UK and Germany as a first violinist with many chamber ensembles, symphony orchestras and baroque ensembles. Kerrie now resides in Toronto with her partner Julian where they frequently perform as a duo, The Apollo String Duo.
JENNIFER MELVIN
VIOLIN TEACHER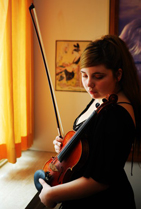 Jennifer Melvin is a professionally trained violinist, celtic fiddler and piano teacher. Born and raised in the small village of Canning, in Nova Scotia, she grew up surrounded with traditional celtic music, and in a home that nurtured her love of classical music. Through her early teens, she successfully competed in several music competitions, and played in multiple orchestras. She apprenticed with Symphony Nova Scotia and Symphony New Brunswick. Ms. Melvin was then named Concertmistress of the New Brunswick Youth Orchestra, and toured through China with them in 2007. After this, she commenced her studies in Violin Performance at the University of Toronto, under the esteemed concertmaster of the TSO, Jacques Israelievitch. She holds an ARCT with honors from the Royal Conservatory of Music, and has taken the Suzuki Pedagogical Training program. Jennifer has been teaching privately for 5 years, and has experience teaching both by ear and written music. She has taught students with visual impairments, and also with learning disabilities. Jennifer provides a lesson plan, tailored specifically for each students needs & goals, which can be referred to throughout the week while practising. Ms. Melvin has experience preparing students for recitals, RCM exams, and music festivals, and in the past her students have been happy and successful.
LEA KIRSTEIN
VIOLIN TEACHER

Lea Kirstein is a violinist, violist and cellist from British Columbia. She holds a Bachelor of Music Education and classical viola performance from the University of Victoria. Lea's philosophies are in student-centred education. She loves to help students to make the connection between what they are listening to and what they are able to do: she believes that lifelong enjoyment of music stems from ability development, student empowerment and active listening, as well as composing and improvising. She draws much of her pedagogy from the Suzuki Method, helping students to mastery through "playing by heart." She has led a grades 4-8 strings program in a Waldorf School and has been teaching private and group studio lessons for the past 7 years. Lea has toured the US and Canada as the violist of the Boston-based Folk Arts Quartet, and now makes her home in Toronto with The Verse Quartet, and with Reenie, her wife's original R&B project. She has collaborated on a CD with Juno award-winning fiddler Oliver Schroer, on CDs and music videos with several independent rock bands, and has even dabbled in jazz and electric cello with the Hypatia Creative Women's Jazz Orchestra. With her classical roots and love for eclectic new music, Lea is convinced that on string instruments, anything is possible.